Detailed review on high-class binoculars on Levenhuk Monaco 8x32 ED Binoculars by BestBinocularsReviews.com
Levenhuk Monaco ED 8x32 Binoculars

Review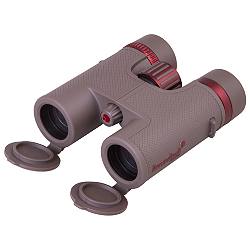 Price Range:
(3/6) Mid Price Binoculars       

Ideal Uses:

General Use
Birdwatching
Outdoor Sports
Safari & Travel

General Wildlife

Hunting
Marine Use
Astronomy
These mid-sized Monaco ED binoculars from Levenhuk were supposed to go on Safari with a friend of mine for their testing, unfortunately, they got delayed in the post and did not arrive in time. However, the up-side is that I personally got to spend some more time with them and made sure that I put them through some rigorous and very thorough testing here in Europe and below you will find my full review and honest thoughts on them:
Levenhuk Monaco ED Binoculars
The mid-to-higher end Monaco ED series is one of Levenhuk's top tier ranges and currently consists of only three modes, a large and powerful 12x50, a standard-sized 10x42 and the mid-size 8x32's.
All models have phase-corrected, dielectrically coated roof prisms and feature ED glass lens elements.
As I mentioned earlier, initially it was my intention to have them tested in a travel/safari type of situation and this is the reason why I chose the more compact 8x32 model.
Levenhuk Monaco ED 8x32 Binoculars Review
Standout Features & Specifications:
Mid-Level: approx $279 / £299
Body

Single Hinge Roof Prism Design
Rubber Coated Polycarbonate Plastic Chassis
Twist-up Eye-cups (3 click stops)
Central Focus Wheel
Water & Fog Proof (Nitrogen)
IPD Range: 5.6cm - 7.4cm

Optics

Fully Multi-Coated Optics

ED Glass Objective Lenses: 4 elements (3 groups)
Eyepieces: 5 elements (3 groups)
Dielectric Coated Roof Prisms
Phase Correction Coatings

Optical Stats

Field of View: 138m @ 1000m / 414ft @ 1,000 yards
Min Focus Distance: 2m / 6.6ft
Eye Relief: 18mm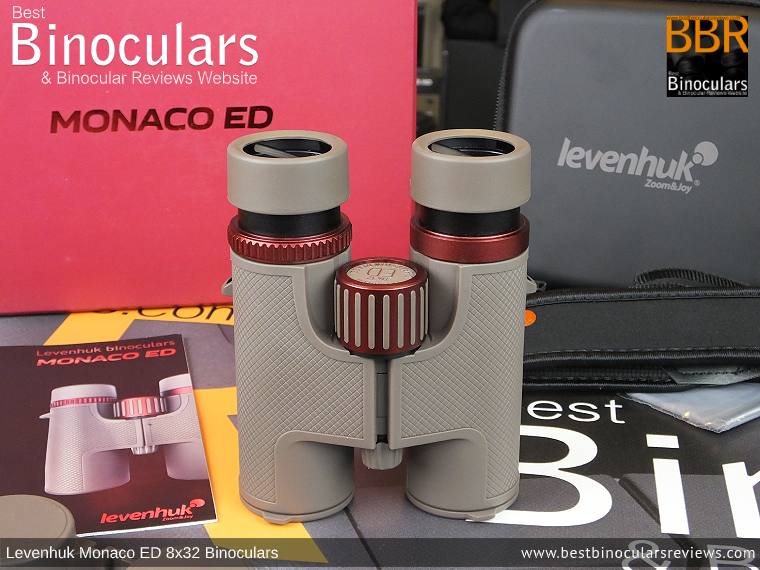 The Body
Levenhuk Monaco 8x32 ED binoculars sport a very typical single bridge design for a modern roof prism binocular, with the hinge positioned at about the midpoint between the objective and ocular lenses.
Whilst testing, I found them to be comfortable to hold, easy to use and generally well balanced.
Hinge & Inter-Pupillary Distance (IPD) Adjustment
As with almost all binoculars, you can adjust the distance between the eye-cups to match that of the distance between your eyes. On this instrument, this IPD (Inter-Pupillary Distance) range is between 5.6cm and 7.4, which is fairly typical
The hinge itself is fairly wide (I measured it to 4cm) and feels robust. On my sample, I liked the level of resistance to movement, meaning that they would easily remain at my desired IPD setting, but at the same time was not too difficult to adjust.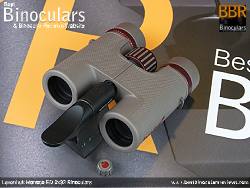 Tripod Adaptable
These Levenhuk Monaco ED 8x32 binoculars are described as being tripod adaptable. What this means is that you can simply unscrew and remove the dust cap located on the central hinge and then in its place, screw in a tripod adapter.
Due to their more compact shape, it can be difficult to attach some designs of adapters to some mid-sized binoculars. Although with the Monaco 8x32, unless you are using a very small IPD setting, the distance between the two barrels should be enough to accept most standard designs of bino adapters. If in doubt, look for an adapter that has a thin profile, like the ones I have used in the example photo on the right.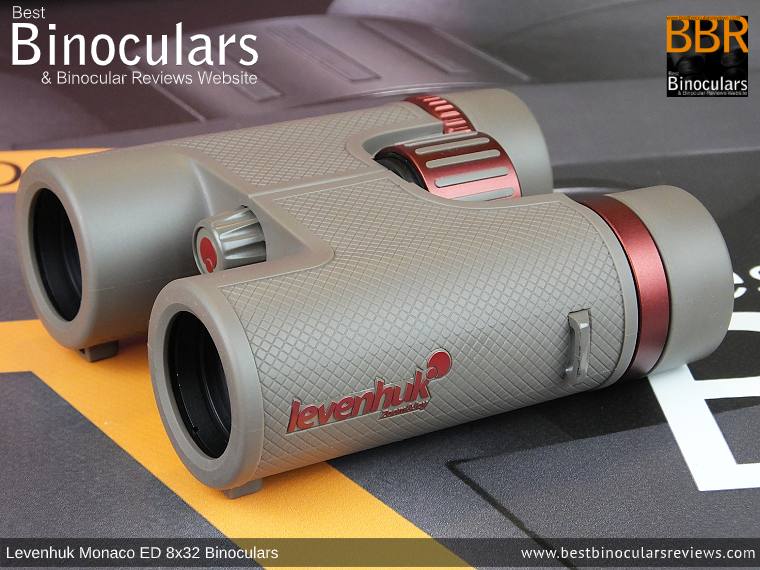 Main Chassis
Whilst I assume the bridge is made from metal, the main chassis is made out of polycarbonate plastic. Whilst this is not necessarily a problem, indeed it has advantages like being very lightweight, but it must be said that most high-end instruments will use magnesium. Indeed even at this price range, you will find a few examples that use magnesium.
Although, unless you are planning on being particularly rough with the binocular or if they happen to suffer a particularly bad accidental knock, this should not be a problem, but I do feel that it is something to keep in mind when looking and comparing instruments, especially those in different price ranges.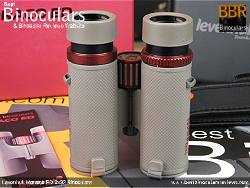 Exterior Rubber Armor
Making up for the lack of a metal chassis is the very thick rubber armor that Levenhuk has added to the exterior that covers almost all of the instrument and which provides plenty of impact protection.
This armor also fits very tightly to the chassis underneath and there was no chance of it slipping about on my sample, something which I have seen on some other instruments.
Fog & Waterproof
Levenhuk Monaco ED binoculars are fully sealed protecting the optics on the inside from moisture as well as dust.
Levenhuk has also filled the interior cavity with Nitrogen gas, this is completely measureless and thus prevents fogging or condensation forming on the inner glass surfaces.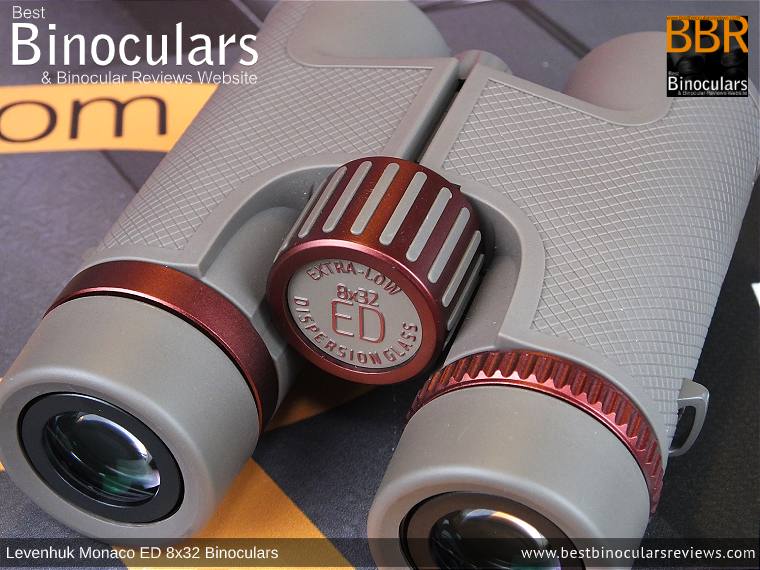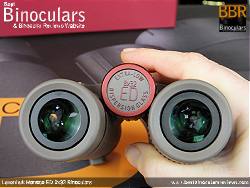 Focus Wheel & Focussing
I do like the focus wheel on these Levenhuk 8x32 Monaco ED binoculars:
It is very large (3cm in diameter and 2.5cm deep) and unlike many that are made from plastic, this has an anodized metal exterior with a raised rubber track on it that adds a good level of grip.
For general day-to-day use this may not seem that important, however when wearing gloves in winter, this really makes a difference. I tested them with my thick gloves, in very cold weather and I still found the wheel easy to 'feel' and adjust accurately.
The gearing on the focus mechanism is such that it requires you to make 1 ½ turns of the wheel to take the focus from one extreme to the other.
Whist some can take more than 2 turns, this is in my experience a little more than the average. The downside is that it takes a little longer to make large adjustments, but then on the positive, it makes it a fraction easier to make fine adjustments.
During testing, I found that the focus mechanism on my sample was nice and smooth and whist the resistance was a touch on the tight side for my personal preference, I never had a problem making fine adjustments and being able to gain a pin-sharp focus quickly.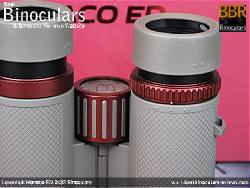 Diopter Adjustment
The ring located on the right eyepiece allows you to adjust the diopter setting and thus calibrate the binocular to compensate for any differences in vision between your left and right eyes.
Whilst it is not lockable, like the very best, it is made from metal and on my sample was tight enough to prevent my setting from being moved too easily by accident.
The diopter range on these Levenhuk Monaco ED binoculars is ±3, which is fairly typical and so should cater for the needs of most users.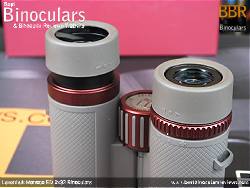 Eyecups
With one intermediate click stop and a full 18mm of eye-relief, these Levenhuk binoculars are a good option should you be looking for a mid-sized travel-friendly binocular that you can use whilst wearing glasses.
I tested them, by fully twisting-down the cups and then at this setting was able to achieve the full field of view whilst wearing my sunglasses. For more info on this take a look at my guide on How To Use Binoculars With Glasses: Eye-relief & Eye-cups Explained.
The cups themselves are nice and sturdy and lack any major amount of free play that you often get on lesser quality instruments. Also well worth noting is the fact that I could clearly see that these have both metal eyepiece housings and eye-cups, which is important as this is the part of a binocular that is most often damaged when dropped and to save on production costs many manufacturers will use plastic for these parts.
Rating for Body Construction Quality: 7/10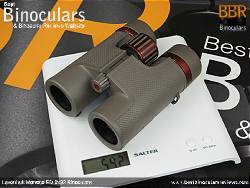 Weight
Levenhuk does not state the official weight in their specifications, but according to my scales, these Levenhuk Monaco ED 8x32 binoculars weigh 592g (20.88oz) without lens covers.
Whilst not overly heavy, this does surprise me a little as despite them having a polycarbonate chassis you can see that it still places them amongst some of the heavier mid-sized instruments that I have tested. I guess the fact that they use a metal focus wheel and eye-piece housing has something to do with this.
Dimensions
As with the weight, Levenhuk does not mention their official dimensions in the specification sheet, but I measured the 8x32 Monaco ED to be:
13cm (5.1in) long with the eyecups retracted and 13.8cm long with them extended
10cm wide with hinge closed and 12.4cm (4.9in) wide with it fully opened
5.3cm (2.1in) in depth with hinge open and 7.5cm with it fully closed
BBR Rating for Body Stats compared to Mid Sized Bins: 7/10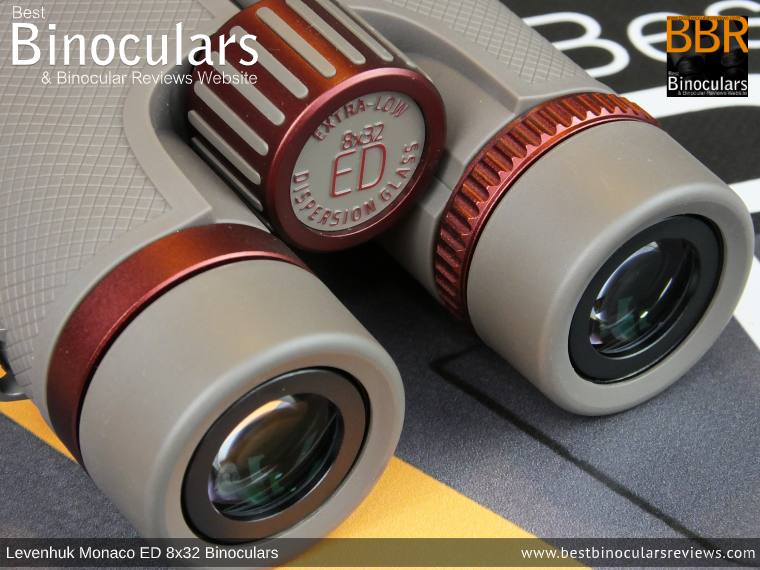 The Optics
At this price level, these Levenhuk Monaco ED binoculars incorporate a level of optics and coatings that I would expect to find:
Ocular Lenses
Levenhuk state that each ocular consist of 5 separate lens elements that are arranged into 3 groups, but other than that do not go into any detail. What I can say that I measured the outer ocular lenses on the 8x32 Levenhuk Monaco ED at 21mm in diameter, which for a mid-sized binocular is pretty good. in fact, this actually matches that of many full-sized instruments.
Larger oculars make it easier to line your eyes up with and there is the potential for an increase in image resolution. More info here: Ocular lens size in Binoculars.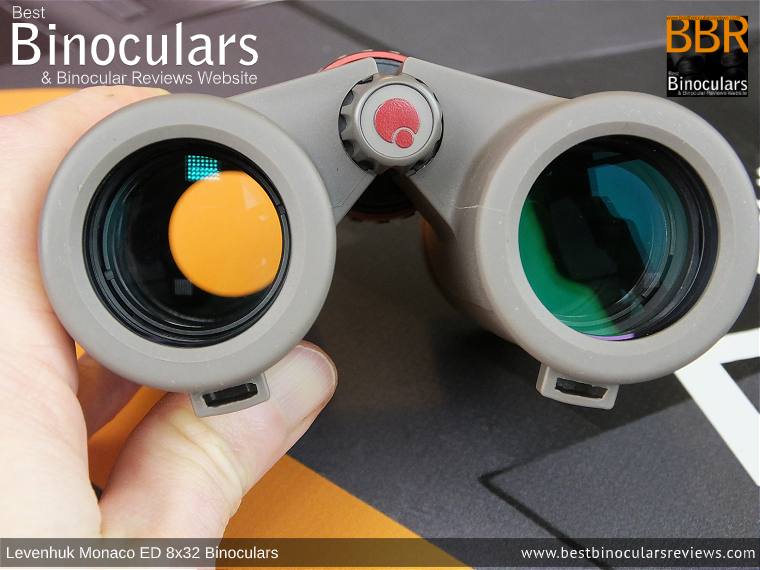 Objective Lenses
32mm is the most commonly used size for a mid-sized binocular, which is exactly what is used on these Levenhuk Monaco ED binoculars.
The main reason for this is that whilst small enough to make a reasonably compact instrument, they are still large enough to deliver a reasonably good performance, even in less than ideal light conditions.
Much of this can be explained by the exit pupil size: 8x32 binoculars produce a 4mm (32÷8) exit pupil, which in good to average light is perfectly adequate, but, in low light, these and indeed all mid-sized instruments cannot compete with a full-sized binocular. For more to complete guide to the exit pupil.
ED Glass
A potential highlight on these Levenhuk Monaco ED binoculars is their use of ED (extra-low dispersion) glass elements within the objective lenses.
In theory, ED glass lenses can lead to a reduction in the color fringing seen in the final image as they reduce chromatic aberration which is the main cause. However just using ED glass does not guarantee this and indeed, I have often come across well made non-ED glass binoculars, that perform as well as less well made ED glass instruments. You can read how these actually performed in this area in the Image Quality section below.
Prisms
All Levenhuk Monaco ED binoculars use the Schmidt-Pechan Design of roof prisms to correct the inverted image. These have the advantage of being more compact than porro prisms, but they do require a number of specialist coatings to ensure that they perform at their best.
Thankfully, as you will see below Levenhuk have used these coatings:
Optical Coatings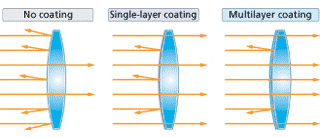 Anti-Reflection Coatings
The optics on the Monaco ED are described as Fully Multi-Coated. this is exactly what we want to read. "Multi-Coated" optics or "Coated" optics mean that only some and not all of the lens surfaces are treated with special anti-reflection coatings.
This is important as the difference this makes is certainly noticeable in the final image and for me is, without doubt, one of the most important things to look for when purchasing binoculars.
Prism Coatings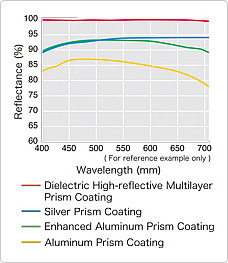 Levenhuk justifiably highlights the fact that these use dielectric mirror coatings on the prisms. These have a much higher level of reflectivity across all wavelengths of light when compared to aluminum or silver coatings used on many binoculars.
Once again this certainly makes an observable difference to the final image brightness and quality.
Phase Correction
Also important to note is the fact the prisms in these 8x32 Levenhuk Monaco ED binoculars have been coated with a material that corrects something called phase shift. The result is a higher-definition image with improved contrast when compared to roof prism binoculars that don't have these special coatings. Note that this does not affect porro prisms and thus is not required on binoculars that use this type of prism.
Optics Comparisons
Optical Components Quality Rating: 8/10
Optical Stats
Field Of View (FOV)
Quoted by Levenhuk in their specs as being 138 meters wide at 1000m, the FOV on this 8x binocular is excellent. Note, according to my usual calculations, this roughly equates to being 414ft wide at a distance of 1000yds, but, they also state on their site that it is 452.7ft wide @ 1000 yds, which I am pretty sure is an error.
Either way, the field of view on these Levenhuk 8x32 Monaco ED binoculars is without a doubt very good and which is something that you can notice when looking through them.
Close Focus
On my sample, I measured the minimum distance that I could focus on an object at 1 meter 40 centimeters (4.6ft) which is truly excellent.
Note, in my experience, most manufacturers over stipulate this measurement and indeed Levenhuk advertise the minimum close focus distance on these as being 6.6ft which is still very good (anything under 6ft I consider to be excellent for an instrument in this class).
In terms of scoring them, I use the official figure. Either way, the close focus on these is very good and these make a good option for those who sometimes also enjoy other close-range activities like butterfly observation for example.
Eye-Relief:
At 18mm these have what I would describe as having a long eye-relief, making them a good option if you need to wear glasses as by twisting down the cups you there is enough space in between the ocular lenses and your eyes to fit in your glasses and still be able to see the full image without any black rings forming on the edges of the view.
This is something that I did test using a pair of sunglasses and I had no problems at all. For more info: How To Use Binoculars With Glasses: Eye-relief & Eye-cups Explained.
Optical Stats Rating: 9/10
Image Quality
To come to the following conclusions on their image quality that you can read below, I compared what I saw through these Levenhuk Monaco ED 8x32 binoculars against that of my 8x32 benchmark that I use for all 8x mid-sized binoculars on a number of different occasions and in differing light conditions:
Image Brightness
For a mid-sized binocular with an 8x magnification, the general image brightness was excellent and I thought they performed relatively well in good as well as poor light conditions in this size category.
This is to be expected as Levenhuk has used good quality glass, with a fully multi-coated optical pathway as well as very highly reflective dielectric mirror coatings on the prisms in this Monaco ED. All of which ensure that as much light as possible gets transmitted through the system and so whilst they still can't quite compare to an equal quality 8x42 in very low light, in reasonably good light conditions it can be quite difficult to notice a difference in brightness.
Contrast & Color Reproduction
Here again, I was impressed with these Levenhuk Monaco ED 8x32 binoculars as to my eyes, the colors were vibrant, yet not too vibrant so as to make the image look unnatural.
The image on my sample showed a good level of contrast, with a wide variance between the light and dark areas of a view. This helps give a good sense of depth to an image, but once again the contrast was not too excessive so as to make the image appear unnatural.
During testing these Levenhuk binoculars, I never observed any sort of unnatural tinting of the image as is the case on some - especially lower cost binoculars that use inferior quality glass in the lenses and prisms.
Color Fringing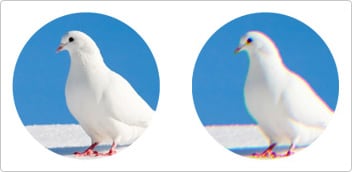 As these Levenhuk Monaco binoculars use ED (extra-low dispersion) glass lenses which can reduce chromatic aberrations which are seen as color fringing in the image they produce, I was hoping that they would do well in this area and I must say that they did not disappoint.
I very carefully looked along the edges or branches, leaves and a black telephone line, all with a bright blue sky as the backdrop and even then, the halo of color around the object was very minimal and certainly an improvement on my non-ED glass benchmark.
Distortions, Image Flatness
As well as this, I never once observed other distortions like image curvature when looking through and testing these Levenhuk Monaco ED 8x32 binoculars.
Image Softening
When looking right at the periphery of the view through these Levenhuk's there is a certain amount of softening of the image, but the amount is minimal and no more than what I would normally expect to see.
Image Quality Rating for a mid-size, 8x binocular: 8/10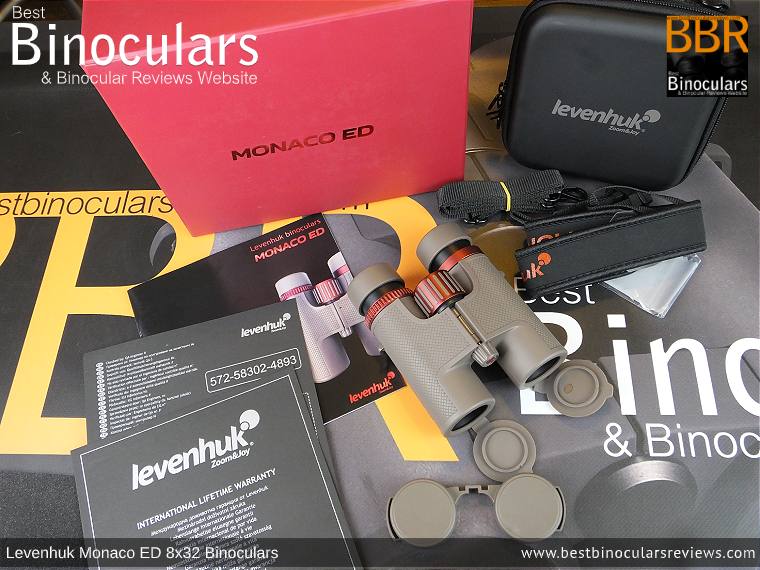 Included Accessories: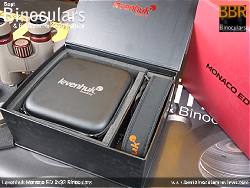 Unboxing & Packaging
Whilst I pride myself on the thoroughness of all my binocular reviews, it is not often that I take the time to highlight and describe the packaging, but I feel in this instance it is well worth mentioning as the packaging that Levenhuk uses for their Monaco ED is far and above what I normally come across, especially at this price level.
The box itself almost doubles as a display case and the foam lining does an excellent job of protecting the instrument during transit. Whilst I know that this may all be slightly frivolous, it does make the process of opening up and unboxing your new purchase for the first time far more memorable and really does make you feel that you have purchased something above the ordinary.
These Levenhuk Monaco ED 8x32 binoculars come supplied with the usual selection of accessories. This includes a carry/storage case, a padded neck strap, objective lens covers, rain-guard, cleaning cloth, warranty card, and user instructions.
Before going into detail on each of them I have to say that whilst there are a few minor points that they have missed, the general level of these accessories is very good for this price level and indeed matches that of many binoculars costing quite a lot more than these which is impressive: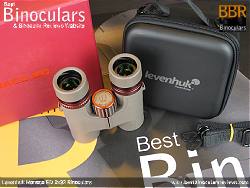 Carry Case - Main Points
Overall this Levenhuk case is up there with the very best and of a far better standard than the majority I see:
Excellent quality
Semirigid construction - offers an excellent level of protection
Zipped Closure - Secure, but a little more time consuming to open than Velcro
Internal webbed pocket
Separate carry strap
Included hand strap
Binoculars fit well inside, can be closed even with eye-cups extended and lens covers attached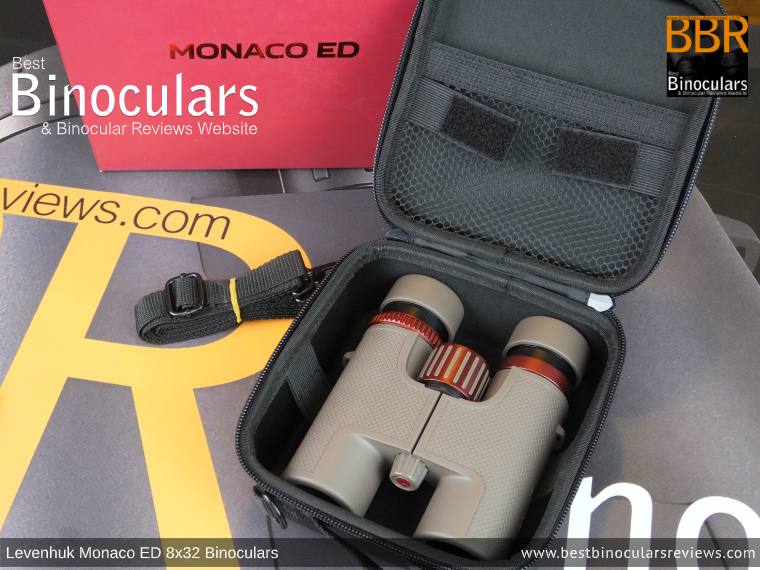 Neck Strap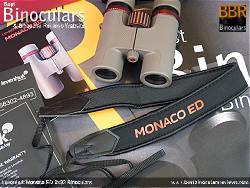 Whilst not quite at the same level as the case, the branded Levenhuk neck strap is still very good and certainly an improvement that what you usually get when purchasing a smaller sized binocular.
The amount of padding and overall comfort is excellent good. I also like the fact that it is branded with the Levenhuk logo, which separates it from the generic straps that are bundled with many instruments.
The strap connects to the binocular in the usual way by looping the straps through the eyelets on the sides of the instrument and you can adjust the length using the sliders. Here it would have been nice and much more convenient if they used quick release clips.
Main Points
Good quality
Plenty of padding even for a full-sized instrument
Textured Neoprene/Rubber underside stops the strap sliding about
No quick release clips which would make it easier and quicker to remove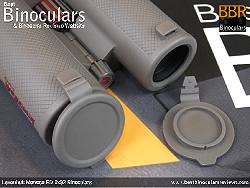 Objective Lens Covers
Like the carry case, the objective lens covers are certainly a step up from the norm:
Firstly they fix to the binocular via a couple of quick release clips located underneath the barrels. This looks far cleaner, more streamlined and far more as if they are part of the instrument rather than just being an afterthought like the simple rubber rings that you now find on the objective covers with most modern instruments.
I also really like the way the cups fit into the ends of the barrels instead of over them. Once again this looks cleaner and makes them feel and look more a part of the instrument.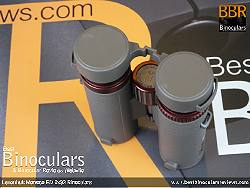 Rain-Guard
To protect the eyecups and the exterior lenses on the eyepieces, these Levenhuk Monaco ED 8x32 binoculars come with a vert typic all designed rain-guard.
Made from what feels like soft plastic or some kind of rubber, they do their intended job, but just lack the finesse of the objective covers and the carry case.
By this, I mean that the cups fit perfectly over the eyecups and so are just tight enough so that they don't come away too easily by accident, but not too tight that it makes taking them off or replacing them in any way difficult.
I also like that the rain-guard has a very flexible bridge between the cups, this means that they can be returned onto your eyecups without having to open up the hinge on the binocular. It sounds like a small thing I know, but I can assure you that it does get annoying to have to open and close your bins every single time you want to use them whilst on a walk.
The lens cover also has an eyelet on the side of each cup designed for you to thread the neck strap through them, should you wish.
Cleaning Cloth
These Levenhuk Monaco ED 8x32 binoculars come with a decent quality microfiber cleaning cloth that is as good as you would expect to find at this level.
Therefore it is more than adequate for cleaning the body and fine for very light use on the lenses when out in the field.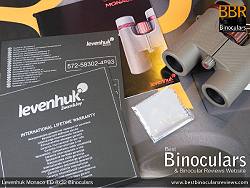 However, I would still recommend that you consider purchasing a lens cleaning kit for thoroughly cleaning the lenses without the risk of damaging the lenses and their coatings.
Instruction Manual
The included Levenhuk instruction booklet looks pretty and at first seems like it will be fairly substantial. however on closer inspection, like the vast majority of others it only covers the very basics and only has many pages because it is written in many different languages.
Warranty Card
The included Levenhuk Monaco ED warranty card is a nice touch and it looks great. Although it is much more than skin deep as on the card it states that these binoculars are covered for life which is impressive.
Levenhuk Monaco 8x32 ED Binocular Comparisons
Below is a table comparing a selection of 8x mid-sized binoculars that I have reviewed. To view the full results:
open the table in full screen mode.
Review Conclusions:
I have now tested and reviewed a large selection of binoculars from Levenhuk, but until this point, almost all of them have been aimed at the entry-level section of the market, whilst these Levenhuk Monaco ED 8x32 binoculars are certainly a step-up because at the time of writing they are priced at approx $279 / £299 and thus positioned within the mid-level price range.
The inclusion of features like ED glass in the lenses and very highly reflective dielectrically coated prisms is impressive and certainly puts them above the level of optical features that you normally expect to find at this price level. This as well as a generally very good build quality and excellent quality accessories most certainly make the Levenhuk Monaco ED 8x32 binocular one of the best mid-level, mid-sized binoculars that I have had the chance to test and review.
Strong Points:
Optical Components
At the mid-level price point, the inclusion of ED glass in the lenses and phase-corrected, dielectrically coated prisms is impressive
Image Quality
In this case, the improved optics and coatings used certainly pays off as the overall image quality is another definite highlight, especially in regards to the low level of color fringing which I would say easily beats most mid-sized binoculars at this price range
Metal Components
Whilst they do not help in keeping the overall weight of the instrument down, the inclusion of a metal focus wheel, metal diopter adjustment ring, metal eyepiece housings and, metal eyecups is not something that you typically see on a binocular costing less than $300
Very Wide Field of View
Accessories
Levenhuk Monaco ED 8x32 binoculars come with an excellent level of accessories and the packaging is also really impressive. The carry case and lens covers are particular highlights in this regard and go way and above those that you get with most mid-range binoculars.
Weaknesses:
Polycarbonate Chassis
Whilst quite typical at this price range, when you consider all the metal components and high-end optical coatings, it is a little disappointing that Levenhuk decided to use a polycarbonate shell rather than a higher specification magnesium one
Weight
By no means could you consider this instrument a heavy-weight, but when it is heavier than most mid-sized binoculars, even many higher-end ones that have a magnesium chassis, which is interesting.
Ideal Uses & Users
Like most 8x32 binoculars, this Levenhuk Monaco ED is aimed at users wanting an easier to carry, smaller, more lightweight instrument than your standard 8x42 binocular and as such, they will appeal to those hiking longer distances and/or those who carry extra equipment like a camera for example.
Travel: Birding Holidays
The smaller size and very wide view make this 8x32 Levenhuk Monaco ED binocular an ideal companion for just about any birding orientated vacation.
Safaris & Wildlife Observation
As well as travel and birding, I think that these binoculars would also be great for general wildlife observation at closer ranges and fantastic on safaris, camping and hiking holidays.
Sports
Whilst not quite as convenient to carry as a full compact binocular, if you have a reasonably sized day-bag, their wide view makes this binocular a great option to take along to most outdoor sporting events where you want to get closer to the action.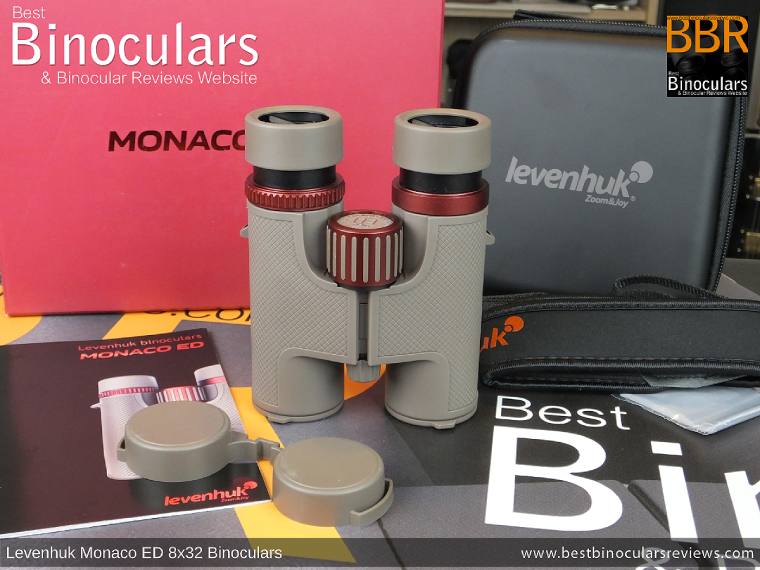 Reviewed by Jason Whitehead
Body Construction Quality:
7/10

78

%


Excellent

Body Stats:
7/10
Optical Components Quality:
8/10
Optical Stats:
9/10
Image Quality
8/10
Extras & Attention to Detail:
8/10